Welcome to the Highland Park Class Of 1971 web site.
HPHS '71 - 65th Birthday Bash!!!
What: It's a Birthday Bash for all members of the HPHS class of 1971. Faculty, staff and guests are welcome.
When: Saturday, August 25th from noon until 9:30ish.
Where: Reynold's Lodge, East side of Lake Shawnee
What to bring: This is potluck — please bring a salad, side or dessert. Bring your own pop or drink — alcohol IS allowed at the lake. Flatware, plates, ice, tea, water and of course, BIRTHDAY CAKE will be provided. 65 Rocks!
Who's cooking? BBQ meats provided by gourmet chefs Tim Tucker, Judy (Bohannan) Webb, and Tommy Webb.
What time do we eat? 2:00 lunch—- Cake around 4:00 or 5:00. Stay late and snack on leftovers for dinner!
Registrations are needed so we know how much food to plan. Since this event will cost around $1,000, a suggested donation of $10 per person is requested, but not required. Questions? Call Bev at 785-357-6742 or text 785-383-9049. You may also send a personal email through the website.
Register at http://www.hphs1971.com/ep_event.cfm?EventID=7887
If you didn't receive a postcard with the following image then your snail mail address is not up to date. PLEASE login and update your information.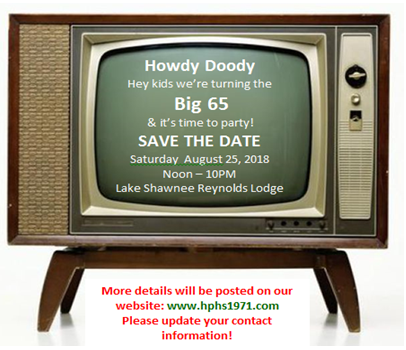 Welcome
….. to the HPHS Class of 1971 website on ClassCreators.com - built and maintained by HPHS 1971 Alumni. Our purpose is to provide a free and ad-free social networking site for the members of the class of '71 (and the occasional special guest).